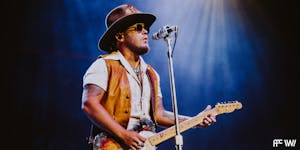 Presented By First Fleet Concerts
The Steel Woods
Wooly's
Des Moines
,
IA
$12.00 - $15.00
Sales Ended
The Steel Woods will be performing at Wooly's on Thursday, April 22nd, 2021.
Here are some safety precautions we are / have been practicing at Wooly's which has been providing a safe environment for our fans at Wooly's:
Masks are required when attending a show. If you forget your mask, you can purchase one for $1 at the door.
We will be disinfecting surface areas regularly & washing hands regularly.
Our employees will be in PPE (Gloves, Masks)
Hand sanitizer stations will be located throughout the venue and in restrooms.
If you are not feeling well, please do not attend!
Please message us with any questions or concerns at info@woolysdm.com.
Thank you for keeping our staff, performers, and patrons safe!
About The Steel Woods
With a pair of critically acclaimed Woods Music/Thirty Tigers releases under their belts in Straw in the Wind (2017) and Old News (2019), Nashville-based The Steel Woods have lived up to their name as a hybrid musical force both in the studio, but especially live.
The band's two original members are native sons of the south who both hale from small-town backgrounds. The Alabama-born Wes Bayliss played harmonica from the age of eight in his family's gospel band, eventually teaching himself piano, bass and drums. Jason "Rowdy" Cope turned his love of Jimmy Page and Jimi Hendrix into a career as a session guitarist/songwriter and producer, moving to Los Angeles, then playing in Jamey Johnson's band for nine years. The two met in Nashville playing the same gig one night in some out-of-town dive, and immediately discovered an affinity for each other.
Part hard-edged Southern rock, part Americana roots country folk, man-made, yet organic, rock but also bluegrass, R&B, blues, gospel, soul and heavy metal, The Steel Woods' completed their first recordings barely months after they first met before being joined by current bassist Johnny Stanton.
And while their albums have received kudos, it is live where The Steel Woods truly shine, expanding on the blueprints on record, involving the crowd in a joyous, communal experience.
"We want to get good songs out to a bunch of people who need them," says Wes. "We just want to make a living making music because it's the greatest job in the world. I don't mind working, but I prefer loving what I do."
Over the course of just over three years as a band, The Steel Woods have toured with fellow Southern rockers like Cody Johnson, Cody Jinks, Whiskey Myers and Blackberry Smoke as well as inspirations such as Lynyrd Skynyrd and Miranda Lambert, performing in Europe for the first time last year. In between another hectic year of concert dates, The Steel Woods are also preparing to release their third studio album for Woods Music/Thirty Tigers.
"We're going to tour these two records and do everything in our power to do them justice and get our music out to our fans," says Wes.
Rolling Stone said The Steel Woods repurposed their cover of Tom Petty and the Heartbreakers' "Southern Accent" into a "roaring... Southern rock power ballad," while Saving Country Music raved, "Though there is not a shortage of Southern rock bands, few have the edge and darkness The Steel Woods bring to the table."
All upcoming dates can be found on their website at thesteelwoods.com.
About Dave Kennedy
David James Kennedy is an American guitarist and songwriter. He is the lead guitarist, keyboardist and a founding member of Angels & Airwaves, appearing on every album except The Dream Walker.

Venue Information:
Wooly's
504 E Locust St

Des Moines, IA, 50309