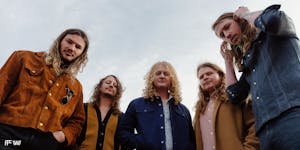 Presented By First Fleet Concerts
Read Southall Band
Wooly's
Des Moines
,
IA
Read Southall Band will be performing at Wooly's on Friday, May 14th, 2021.
Here are some safety precautions we are / have been practicing at Wooly's which has been providing a safe environment for our fans at Wooly's:
Masks are required when attending a show. If you forget your mask, you can purchase one for $1 at the door.
We will be disinfecting surface areas regularly & washing hands regularly.
Our employees will be in PPE (Gloves, Masks)
Hand sanitizer stations will be located throughout the venue and in restrooms.
If you are not feeling well, please do not attend!
Please message us with any questions or concerns at info@woolysdm.com.
Thank you for keeping our staff, performers, and patrons safe!
About Read Southall Band
Born and raised in the heart of Oklahoma, Read Southall brings a unique sound to country music. Growing up listening to everything from Hank Williams to Johnny Paycheck led him to fall in love with the soulful stories behind country music. The young artist quickly used these influences to find his fit in the genre. Read started performing in choirs and local bands at a young age, and at age 22 he began performing locally as a solo artist. Overnight it seemed, he had a dedicated fan base in his home state. As he continued to grow as an artist, Read began writing in between performances. Putting personal experiences to paper came naturally, "I really enjoy writing music simply because I believe I can connect with people… Words can't describe the high you feel when someone says your music has gotten them through something. That alone is a greater honor than any dollar compensation," says Southall. Read wrote, recorded, and independently released his first album, Six String Sorrow, in 2015 and recently released Borrowed Time with his band. With overdriven guitars and heavy drums, the Read Southall Band aims to deliver a rock and roll experience at every show.
About Dan Tedesco
My story is…..that I have no story, per se. I come from a solid family. It's a point of pride. I grew up in the far west suburbs of Chicago. My folks weren't rich, but there wasn't much that I was left wanting. I've never been arrested. Always got good grades. I never developed any major drug addictions (at least, not yet). The only serious addiction in my life, if you'd like to call it that, has been with music. Let me bring you up to speed.

Piano at age 5.

Violin at age 9.

Guitar at age 11 after hearing Eddie Van Halen.

And that, as they say, is all she wrote.

I've been madly in love with it ever since.Growing up my ears were fortunate enough to be treated to a fairly eclectic musical mix: The Beatles, Dylan, Paul Simon, James Taylor, The Band, The Beach Boys, Pink Floyd, CCR, Bob Seger, Bruce Springsteen, Tom Petty. Even a healthy dose of Mozart, Beethoven and Wagner. A friend in my neighborhood used to make cassette mixes for me: The Who, They Might Be Giants, The Police, The Clash. I missed the grunge period, and it wouldn't be until nearly a decade later that I'd discover the power of Nirvana, Pearl Jam and Soundgarden. Once I found the guitar, things focused in a touch. It wasn't unusual for me to fall asleep at night to the sounds of guitar wizards like Joe Satriani and Eric Johnson. And the random Van Halen record was never far away.

Then there was the jazz period. Wes Montgomery. Joe Pass. George Benson. Charlie Christian. John Coltrane. Elvin Jones. McCoy Tyner. The things I learned from those guys. Man. It's everything really. The spirit of jazz. The freedom of it. That's been it's great influence on me.

But I was always a rock 'n roll kid. Pete Townsend more than Pat Metheny. And, ultimately, I craved power chords over the complex harmonies of jazz.

High school was a weird time. I straddled the jock world, playing baseball, and the music world, as a member of the high school jazz band. Most mornings, after being dropped off by the bus, everyone would hang out in the lunchroom before first period. Not me. I'd head straight to a room adjacent to the school's band rehearsal hall, writing music on the computer. Like I said, it was an addiction. Outside of school, I jammed in a duo with one of my best friend's, who happened to be a fantastic drummer. We wrote all kinds of stuff. Lots of instrumental music (queue the Satriani). Recorded various demos. But neither of us sang. That made it hard to play out. And most of the other kids were interested in the classics: Zeppelin, Pink Floyd, The Stones. They weren't interested in what we had going on.

So, like many of my heroes, I was a bit of a social outcast. That, if anything, was and has always been my struggle. Everyone has at least one. And I found my comfort, security and confidence in the world out on the fringe, populated by the misfits. The world of rock 'n roll.

Let Me Play My Old Guitar, and sing for you my song

Let Me Play My Old Guitar, and sing for you my song

I promise you my friend

I Will Not Do You Wrong

– DT

Venue Information:
Wooly's
504 E Locust St

Des Moines, IA, 50309