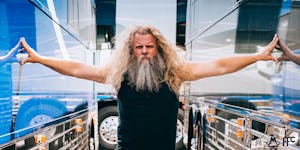 Presented By First Fleet Concerts & Mammoth
Jamey Johnson with Whiskey Myers and Folk Uke
Lauridsen Amphitheater at Water Works Park
Des Moines
,
IA
Jamey Johnson & Whiskey Myers at Lauridsen Amphitheater located at Water Works Park
About Jamey Johnson
The Washington Post considers him to be "one of the greatest country singers of our time." Since Johnson doesn't create a set list, no two shows are the same, so the once-in-a-lifetime concert will be unforgettable.
"I don't know what I'm going to do until I am standing there doing it," he says. "That is a freedom I have enjoyed ever since I began doing this, the ability to try something new.
"You'll see me do a lot of my songs, including my old stuff," he says. "If I have a new song that I want to share, you will hear that. When I'm not doing my songs, I'll be doing everybody else's that I like, from every format. If I find a jazz song that I like, we'll drop it in there. If I find a rock song that I like, we'll do that.
"My taste is vintage, traditional, and that is not to say that everything I do is old. There are a lot of new writers these days that are putting out great music that I find in the same vein as the old stuff I like and we may try some of that out."
His 2008 album, That Lonesome Song, was certified platinum for 1 million in sales, and his 2010 double album, The Guitar Song, received a gold certification. He has been nominated for 11 Grammys.
In addition, he won two Song of the Year Trophies, for "Give It Away" and "In Color," both from the Academy of Country Music and the Country Music Association. He has received tremendous praise from The New York Times, Rolling Stone, The Wall Street Journal and other publications, many of which have hailed his albums as masterpieces.
In 2012, the Alabama native released the Grammy-nominated Living for a Song: A Tribute to Hank Cochran paired him with Willie Nelson, Alison Krauss, Emmylou Harris, Ray Price, Elvis Costello, George Strait, Vince Gill and Merle Haggard.
In 2013, the Nashville Scene's 13th annual Country Music Critics' Poll named it the year's best album. (Two years earlier, the same poll named Johnson's The Guitar Song as the year's best album, and Johnson himself as best male vocalist, best songwriter and artist of the year.)
In 2014, he created his own label, Big Gassed Records, to release his own songs and albums as well as the music of other artists.
Johnson says he gets the same thrill when he takes the stage each time as he did when he launched his impressive career. "I love the audience participation," he says.
"I love it when they sing along. I love it when I can't remember the words and they do. I love it when the band really nails a good one and I love it when we end up in a train wreck, and those are few and far between, but I even love that.
"There are some things we do every night and I think our fans know what that will be. Fans will yell at me during the show and I can't understand what they are saying, but I am thrilled to death they are that passionate."
About Whiskey Meyers
"You can tell when somebody is faking it," says Cody Cannon, lead singer and guitarist of Whiskey Myers, "and you can tell when it's real." This kick-ass band has been steadily building a devoted following with its gritty authenticity, and with their self-titled fifth album, they're poised to explode.Each one of the releases from Whiskey Myers has been bigger and bigger — following their break-out third album, 2014's Early Morning Shakes, their most recent record, Mud, climbed to No. 4 on Billboard's country charts in 2016. And that was before the group was featured in Kevin Costner's TV series Yellowstone in 2018 (not just on the soundtrack, but on screen, performing in a bar), which propelled the band's entire catalogue into the Top 10 of the iTunes country chart.
But playing to larger and wilder crowds — including audiences of more than 100,000 at the Download Festivals in London and Paris — didn't cause Whiskey Myers to change their approach this time around. "We just bring our songs to the table and make it sound like us," says Cannon. "We never think about it. We just try to go in and write a good song, whether it's country or rock and roll or blues.""There's never a plan or the sense that we need to make a song sound a certain way," adds guitarist John Jeffers. "A country song could end up a rocker or the other way around — it's extremely organic, and that's always been us as a band."
The big change for Whiskey Myers was the decision by the group (which also includes Cody Tate on guitar, Jeff Hogg on drums, bassist Jamey Gleaves and Tony Kent playing keyboards and percussion) to produce the album themselves. GRAMMY-winner Dave Cobb (Chris Stapleton, Jason Isbell, Brandi Carlile, Sturgill Simpson) helmed the band's last two albums, but this time around, they felt ready to take the wheel.
"We loved a lot of things about our producers," says Jeffers, "but it was time to be set free and do it ourselves — to take what we learned from them and put it all together, figure it out. I think it just made it more authentically us."
"We didn't know what to expect being on both sides of the glass, but we loved it," says Cannon. "Everybody got along, and we really incorporated everybody's ideas."
Jeffers emphasizes how that sense of collaboration and experimentation really defined their whirlwind eighteen days of recording at the Sonic Ranch studio, outside of El Paso. "There's never a right or wrong answer when it comes to ideas," he says. "We would run every single idea from everyone — some work and some don't, but we give them all a shot. And then there's that magical moment when the whole band hears it, your eyes get a twinkle — 'That's it, that's us!' It's usually a no-brainer."
It should come as no surprise that at this point, the members of Whiskey Myers can communicate and create so cohesively. The band's roots stretch back decades into the red dirt of East Texas, where Cannon, Jeffers and Tate first began playing together. They earned a rabid local following on the strength of their 2008 debut album, Road Of Life, and then notched their first No. 1 on the Texas Music Charts with the 2011 follow-up Firewater.
With Early Morning Shakes, though, the rest of the world started to catch up to what Texas already knew. Esquire called them "the real damn deal," while USA Today wrote that their music had "shades of Led Zeppelin and David Allen Coe." They took their blistering live show across the U.S. and U.K. non-stop, sharing stages with the likes of Lynyrd Skynyrd, Hank Williams Jr. and Jamey Johnson and racking up more than 300 million streams of their songs.
The band draws as much inspiration from Nirvana as from Waylon Jennings, and Whiskey Myers bursts out of the gate with the raging "Die Rockin'," followed by such bruisers as "Rolling Stone" and "Gasoline." Over the course of fourteen tracks, though, songs expand, moods change and songs like "Bury My Bones" and "California to Carolina" explore different stories and emotions.
"You want an album to be like a rollercoaster," says Jeffers. "Does it really take you for a ride, with ups and downs and some loops and sometimes you're upside down?"
"Those first songs on the album were the first batch we recorded, and they were really rock and roll," says Cannon. "That got the juices flowing. But an album should be like a whole work of art that moves, comes out strong, ends strong, flows in the middle — like a good show does."
Whiskey Myers hasn't dialed down their Southern Rock rowdiness, but these songs also reveal new maturity and changes in the lives of the band — both Jeffers and Cannon got married since the release of their last record. "There's always pressure there," says Jeffers about the challenges of maintaining a relationship and a relentless touring schedule, "'Bury My Bones' is about being home. I was on the road and just wanted to go home. It is on your mind, sometimes harder than others, and it shows in the songs. And then sometimes you're just pissed off and you write a song called 'Bitch!'"
"We're growing up," says Cannon, "and this is exactly the place we're at, and it comes out in our songs, in our business, everything, We're not as wild as we were — we're not totally calm, but you see how your life changes. You always write about little sections of your life — you can write a happy song when you're sad, but you tend to go to where you are — and I just think this album is happier, more upbeat, doesn't have too many dreary songs on it."
For this band of renegade brothers, the goal isn't to fit into a format or try a new direction for its own sake, it's to be true to the music they love — and with Whiskey Myers they continue pushing in all directions and sharpening their attack, whether country, rock, blues, whatever — even adding the legendary McCrary Sisters' gospel influence to the project on background vocals. "Everybody wants you to pick a genre, but we did this our whole career," says Cody Cannon. "We like it all, so we're gonna do it all. We're better than we were at 20 years old — you try to hone your skills and get better, write better, play better. This is just how it came naturally, and it works better that way."
About Folk Uke
Cathy Guthrie and Amy Nelson, also known as Folk Uke, have been writing and performing together for over a decade. This duo is a unique amalgam of angelic harmonies often wrapped around edgy, surprising lyrics. Folk Uke plays folk music in its truest form with a delightfully wicked twist.

Venue Information:
Lauridsen Amphitheater at Water Works Park
2201 George Flagg Pkwy

Des Moines, IA, 50321