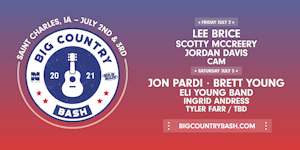 Nash FM 97.3, 92.5 KJJY, and First Fleet Concerts Presents
Big Country Bash 2021
Avenue of the Saints Amphitheater
Saint Charles
,
Iowa
Nash FM 97.3, 92.5 KJJY, & First Fleet Concerts present Big Country Bash, a two-day music festival celebrating country music and local radio
Fans unite for a summer weekend of camping, exploring vendors, and enjoying the outdoors. This year the Bash is headed back to the fields of St. Charles, Iowa; a city just outside of Des Moines, Iowa.
Friday, July 2nd - Gates 4 PM, Music 5 PM
Saturday, July 3rd - Gates 12 PM, Music 1 PM
Web: bigcountrybash.com // FAQs
Follow us: Facebook // Instagram // Twitter // @bigcountrybash
Set times will be coming in the near future. Likely in June, 2021. We will post on socials and send an email to purchasers. Make sure to join our emailer on www.bigcountrybash.com to stay updated.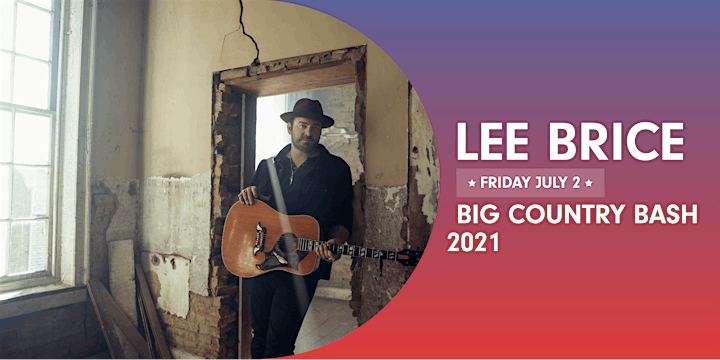 About Lee Brice
When current CMA and CMT Music Award-nominated and Curb Records recording artist, Lee Brice, isn't selling out arenas, writing and recording songs, or building new brands like American Born whiskey, you'll find the family man with his wife Sara, two young boys, and daughter. Meanwhile, with over 2.2 billion on-demand streams, and three billion spins on Pandora, Brice continues to enjoy massive success at country radio, digital streaming services, and on the road. He is currently #1 at Country Radio with his fastest rising single career to date, "One of Them Girls," which follows his #1 with Carly Pearce on "I Hope You're Happy Now" and his #1 just prior to that, "Rumor," which was nominated in the category Single of The Year at the 55th Annual ACM Awards. One of the most-played country artists of all time on Pandora, he is a member of the company's "Billionaires Club," becoming only the second country artist behind Keith Urban to receive the Pandora Billionaire plaque. Lee is also a GRAMMY nominee, a CMA and ACM award winner, and he's taken eight radio singles to Number One: "A Woman Like You," "Hard to Love," "I Drive Your Truck," "I Don't Dance," "Drinking Class," "Rumor," "I Hope You're Happy Now, and "One Of Them Girls." Garth Brooks, Jason Aldean, Kenny Chesney and others have recorded his songs, and he's performed on numerous TV shows, including NBC's Today, ABC's The Bachelor, NBC's The Voice and FOX's Miss USA 2018. Lee performed as part of the Library of Congress Gershwin Prize for Popular Song honoring Garth Brooks, aired on PBS March of 2020.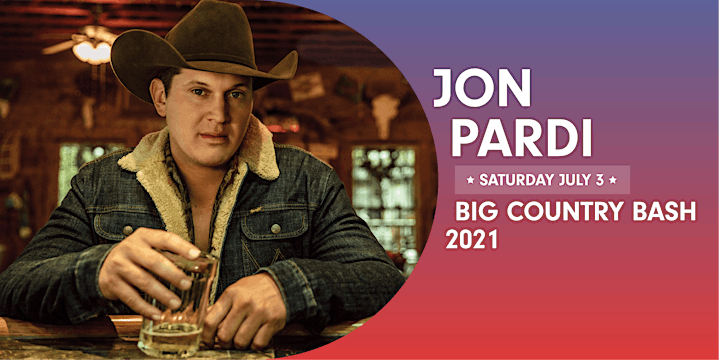 About Jon Pardi
The ACM/CMA award-winning artist recently released Country radio single "Tequila Little Time," the follow up to his Platinum-certified #1 song, "Heartache Medication" and his Billboard Top 5 "Ain't Always The Cowboy." In 2020, Pardi was the first Country artist to have two #1 singles on Country Radio and closed the year with the release of Heartache Medication Deluxe Edition, issued on the heels of his first CMA Album of the Year nomination, his second consecutive ACM Album of the Year nomination, and the Platinum-certification of title track "Heartache Medication." Heartache Medication (Deluxe Edition) followed the release of "Ain't Always The Cowboy" (Western Version) and RANCHO FIESTA SESSIONS- an eight-song album that features a combination of songs Pardi is both inspired by, and loves to perform-and his ACM/CMA nominated album, HEARTACHE MEDICATION. HEARTACHE MEDICATION debuted among the top albums on Billboard's Country Albums chart and was named on Rolling Stone's "Best Albums of the Year" and The Los Angeles Times "Best Albums of the Year" (#4) list as the only country artist/album represented. A "hero in the making" (Variety), Pardi is noted for his "long-lasting mark on the genre" (Music Row) and his impressive ability to carve out his own path creating "the kind of country music multiple generations came to know, and love can still work on a mass scale" (Variety). Filled with fiddle, twang and steel guitar, Pardi continues to "apply new ideas to country's old sounds" (Los Angeles Times) and "bring authenticity back into Country music" (People). For more information, visit www.jonpardi.com.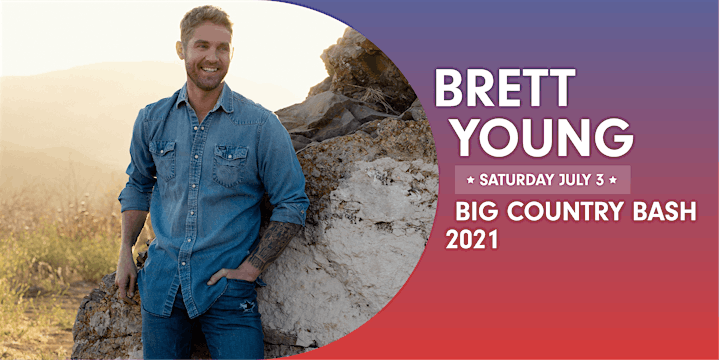 About Brett Young
Brett Young's sophomore album TICKET TO L.A. hit #1 on the Billboard Country Albums chart upon its December 2018 release. The album follows his colossal 2017 self-titled debut, which dominated the Top 20 on the Country Albums chart for 37 weeks and quickly reached RIAA PLATINUM certification. Delivering four consecutive No. 1 PLATINUM-certified hits, Young was recently named ASCAP's 2018 Country Songwriter-Artist of the Year for his "melodic craftsmanship" (Billboard), and his 3X PLATINUM smash hit "In Case You Didn't Know" was bestowed with the top honor at the BMI Country Awards as their Song of the Year. Young has also garnered nominations from ACM, Billboard, Teen Choice, CMT and CMA Awards as he continues to rack up nonstop hits as "one of country music's most reliable new hitmakers" (Tennessean). Along with the industry successes, his relationship with fans found Young selling out every stop on his debut headlining CALIVILLE TOUR and earning new followers on the road with Thomas Rhett's LIFE CHANGES TOUR. Young is set to join Kelsea Ballerini in 2019 on the MISS ME MORE TOUR. For additional information, visit brettyoungmusic.com.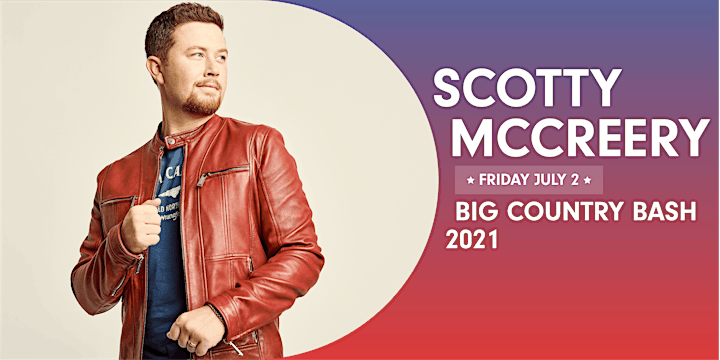 About Scotty McCreery
"I've lived a lot of life since my last record," says Scotty McCreery. "I moved out on my own, I travelled across the country and the world, I got engaged, I was dropped by my label, I was even robbed at gunpoint. So I really wanted this album to show who Scotty is at 24, what's going on in my life, and I think we accomplished that."
With his third album (plus a chart-topping Christmas record), the young star takes a huge creative step forward. He co-wrote all 11 songs on Seasons Change, working with some of the finest songwriters in Nashville to express a wide range of emotions and musical styles. And after a lengthy legal struggle that kept him on the sidelines for several years, McCreery placed a bold bet with his career that has paid off with a new label and a reinvigorated attitude.
"At first, it actually started pretty simple," he says. "We were just looking for the best songs. But then as my life got more complicated, I knew I wanted to make a record that was a lot more personal, and I felt that writing more myself would help capture that."
After winning Season Ten of American Idol in 2011, McCreery made history when he became the youngest male artist of any genre, and the first country music artist ever, to have his debut album enter at No. 1 on the Billboard Top 200 chart. Clear as Day was certified Platinum for sales of one million units in just 13 weeks and became the best-selling solo album released by a country artist in 2011. The singles "I Love You This Big" and "The Trouble with Girls" were also certified Platinum. He won the New Artist of the Year award at both the Academy of Country Music (ACM) Awards and the American Country Awards, and also received the CMT Award for Breakthrough Video of the Year for "The Trouble with Girls."
A year later, Christmas with Scotty McCreery debuted at No. 1 on the Billboard Top Holiday Albums chart and was quickly certified Gold. His next album, 2013's See You Tonight, debuted at No. 1 on the Billboard Country Albums chart, and "See You Tonight" and "Feelin' It" both reached the Top 10 and were certified Platinum and Gold respectively. "See You Tonight" earned McCreery both his first BMI Award for writing one of the Top 50 Country Songs of 2015, and his first Music Row No. 1 Challenge Coin for landing atop the Music Row Country Breakout Chart.
While he had been working on his songwriting craft throughout his rapid rise, McCreery felt that he really needed to buckle down and study if he was going to tell the stories he really wanted to tell on Seasons Change. "I wanted to write with everybody," he says. "I was just trying to be a sponge and soak up all I could. It really set me up to where I could write every song on the record, and not feel like I was compromising the quality of what I was singing."
Key to his growth was producer Frank Rogers (Brad Paisley, Darius Rucker), who co-wrote six of the album's songs and helped steer the ship. "Frank worked on my last record, but this time he really took me under his wing," says McCreery. "I lean a little more to the traditional side, but he does a great job of getting new sounds and traditional sounds and meshing them together." He also brought in Aaron Eshuis and Derek Wells as co- producers on the album. "Derek had played on my last album and he's one of the most in-demand session players in town. I knew he had the musical ear and strong musical point of view that would enrich this project. And with Aaron -- every time we sat down, we wrote a great song. Having Frank, Derek and Aaron was a great combination."
The first song he worked on after his lengthy fight with his old label was resolved was "Seasons Change," writing with James McNair and Tommy Cecil. "That was my first time diving back into music after dealing with lawyers for a year, and I felt rejuvenated," he says. "I decided that very day that it was going to be on the record."
Another thrill came when North Carolina resident McCreery got to write the beach-music-inspired
"Barefootin'" with David Lee Murphy. "He's had such huge hits, has such a way with words, and 'Dust on the Bottle' is one of my all-time favorite songs," says McCreery. "I never expected to write with him, and then we sat down and wrote one of my favorite songs—that was a great day."
The greatest breakthrough, however, may have come in February 2015, when he wrote "Five More Minutes" with Rogers and Monty Criswell. "I knew it was a special song," he says. "I tweeted that day that we just wrote my favorite song I'd ever written." As the search for a new label continued, McCreery and his team made a brave decision, and released the song on their own, with no record company behind it.
"Most sane people would have said to wait," he says, "but my management and I really believed in it—and at the core of country music, it still comes down to the song. And we were willing to bet on that. We knew it might take a while, but we felt like we could do it and build something one step at a time."
It didn't take a while. On its first day of release, "Five More Minutes" was ranked No. 2 on the iTunes country singles chart and No. 9 on the iTunes all-genre singles chart. It debuted at No. 6 on the Billboard Country Digital Sales Chart, McCreery's highest ranking on that chart since his debut single in 2011.
The emotional music video, with home movies of McCreery as a boy alongside his family and friends, was the No.1 country music video and the No. 2 music video overall on iTunes. It stayed at No. 1 on the GAC Top 20 Countdown for six weeks. His powerful performance of "Five More Minutes" on the Grand Ole Opry stage during CMA Music Festival won the 2016 Rare Country Award for "Grand Ole Opry Moment of the Year."
"Sometimes you feel like you've really got to sell something," says McCreery, "but this one, from the first time people heard it, everybody started telling me their own stories, and I enjoyed that more than anything else. It would have put us in a predicament if it hadn't succeeded—looking back, yeah, it was a crazy thing to do, but we just went full steam ahead." The final piece fell into place when, just as "Five More Minutes" hit the Top 40 on the Billboard Country Airplay chart, McCreery signed with Triple Tigers Records/Sony Music Entertainment.
"Triple Tigers is a great fit for me," said McCreery. "They are music people and they work hard. With this label on my side, 'Five More Minutes' has become my fastest rising single to reach Top 15 since my debut single. And we've only just begun."
Of course, there's one other big story that underlies Seasons Change. In September 2017, the guy who was voted both "Country Music's Hottest Bachelor" and "Country Music's Sexiest Man" by the readers of NASH Country Weekly Magazine proposed to longtime girlfriend Gabi Dugal in the mountains of North Carolina.
"She's a huge part of this record, the inspiration for all the love songs," he says. "We met in kindergarten–her kindergarten diary has 'Mrs. McCreery' written in it with hearts around it. We started dating senior year of high school, and became best friends in the last few years."
The song "This Is It" even spells out a play-by-play blueprint for popping the question.
"I had the ring in the closet for months and had the day all planned out," he says. "And it all went great, just like the song lays it out—it would have been awkward if she had said no!"
Now, with a wedding on the way, a hit on the charts, and a new lease on his musical life, everything looks great in McCreery's world. Things get sunnier. Seasons change.
TRACK-BY-TRACK
1. SEASONS CHANGE
Scotty McCreery/James McNair/Tommy Cecil
"This was the first song I wrote for this album. It was the song that really got me going to write again, go after it all again. It's the perfect song to show where I'm at in life—I got engaged, we're planning a wedding, it's all great—and a good introduction for me going forward. I have to just pretend that 2016 didn't happen, it was not fun for me, but you gotta learn from it, stay persistent and work hard and good things will come."
2. WHEREVER YOU ARE
Scotty McCreery/Frank Rogers/Dan Isbell
"Frank Rogers has really been a mentor to me, and he meant so much through this whole project, but Dan Isbell is one of my favorite guys that I met working on this record. He's a happy-go-lucky dude, a real ball of energy in the room. This one was his idea, and we just had fun with it. It's contemporary and upbeat—and it's all for Gabi, she's the inspiration on all the love songs."
3. BOYS FROM BACK HOME
Scotty McCreery/Dan Isbell/Jason Gantt
"This is one of my favorite songs. Every name in here really is one of my boys from back home. Every guy is a friend, and these are actual stories from us growing up—literally every one is true. It really takes me back home to those guys. I like to reminisce, to kick back and laugh with friends. It was kinda tough to write, though, because it was just me who knew the stories I was trying to convey!"
4. FIVE MORE MINUTES
Scotty McCreery/Frank Rogers/Monty Criswell
"It was a special day writing this. We all sat down, and at first I was just talking about my granddaddy. Monty Criswell has written some of the most meaningful songs in country music. I always believed in it and thought it was a story that everyone could relate to—I feel like everyone has these things that they go back to and wish they had more time. We worked on this song for three or four different days, and a lot changed and it took a while, but I wanted it to be perfect."
5. IN BETWEEN
Scotty McCreery/Frank Rogers/Jessi Alexander/Jonathan Singleton
"This was my first time writing with Jessi Alexander and Jonathan Singleton. It's very autobiographical, and I thought I could really tell fans who I was through a song. I sometimes get painted as lily-white or holier than thou, but I like to have fun. I'm not this and not that, and I feel like a lot of folks are like that—'I ain't all holy water and I ain't all Jim Beam' is one of my favorite lines on the record, and I think it speaks for a lot of people."
6. THIS IS IT
Scotty McCreery/Frank Rogers/Aaron Eshuis
"We wrote this two weeks before I proposed to Gabi. Frank knew that I was going to propose, but I hadn't told Aaron. I set out to write an engagement song, with me laying out a real picture of how the day was going to go. I got us lost in mountains one time, and we were driving on a dirt road, got out and hiked and it took us to these cliffs, and now that's our spot. I knew that's where I was going to ask her. I just love the song and the picture it paints."
7. WRONG AGAIN
Scotty McCreery/Frank Rogers/Phillip White
"This is just a fun one. Every guy out there can relate—'I've been wrong once with the ladies out there, I'm gonna be wrong again.' I thought it was a funny way of saying it."
8. MOVE IT ON OUT
Scotty McCreery/Dan Isbell/Aaron Eshuis
"I was just in the mood to go to the beach or craving the place where I go to get away and recharge my batteries in North Carolina. It's a fun beach song, for when you've been working all week and you're ready to get away from the office."
9. BAREFOOTIN'
Scotty McCreery/Frank Rogers/David Lee Murphy
"I love the style called 'Beach Music.' It's big down in the Carolinas—the Shag is the dance you do. I think I'd been to the beach before writing this, and I was just in that mood. Now, David Lee Murphy had never heard of beach music, so we had to explain it to him. We even name-drop the classic song 'Carolina Girls.' The horns really took the song over the top—I've probably listened to this one the most so far out of all the songs on the record because it puts me in such a good mood."
10. STILL
Scotty McCreery/Aaron Eshuis
"These last six years with Gabi were kind of the inspiration for this song. I had this idea on my phone forever, but I could never figure out just how to say it. Then on the first day Aaron and I met, we got it written. 'After all this time, I still need you, still want you'—you kind of have to sing 'still' a lot, but we figured it out and turned it into a cool love song. I hope the ladies all love it and latch onto it and that the guys all get it, too."
11. HOME IN MY MIND
Scotty McCreery/James McNair/Tommy Cecil
"This one is really personal. The main road in my hometown is Timber Drive, just like in the song. This is me thinking back to my family and friends in North Carolina and all the good times I had growing up there. I travel 150-200 days a year, so I'm not home like I used to be, but this kinda takes me back. And it's me saying to Gabi, because she can't really travel with me because of her job, that I'm thinking about her. "I didn't really hear the echo of James Taylor at first, but I always send my demos to my friends, to see what they think as a sounding board, and when I sent this one my friend Will was like 'Hey, Scotty Taylor,' and then I got it. Of course, coming from North Carolina, he was always a big influence on me."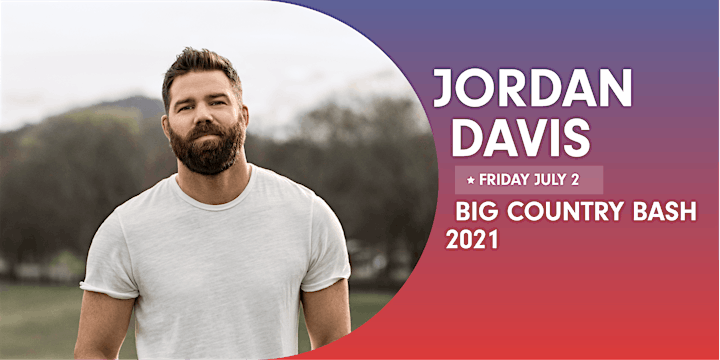 About Jordan Davis
MCA Nashville's Jordan Davis has been named an "Artist to Watch" by Billboard, Rolling Stone, CMT, Pandora, Shazam, Amazon Music, Sounds Like Nashville, The Tennessean, SiriusXM, Whiskey Riff, and more. A Native of Shreveport, Louisiana, Davis graduated from LSU and briefly pursued the path of his degree working as an environmental consultant; however, his passion for music and songwriting eventually compelled him to move to Nashville in the summer of 2012. The 2020 ACM New Male Artist of the Year nominee's debut album Home State has accumulated over 1.5 billion streams worldwide and features his three consecutive No. 1 hits: Platinum-Certified "Slow Dance In A Parking Lot," the Double Platinum-Certified "Singles You Up" and Platinum-Certified "Take It From Me." In 2019 Davis won Best New Country Artist at the iHeart Radio Music Awards and was a nominee for ACM New Male Artist of the Year. He was also named Billboard's Top New Country Artist of 2018 as well as Country Aircheck/Mediabase's Most Heard New Artist of 2018. The hitmaker recently released a six-song, self-titled EP featuring current Top 20 single "Almost Maybes" as well as a collaboration with pop superstar Julia Michaels, "Cool Anymore." The singer/songwriter has previously toured with the likes of Rascal Flatts, Jake Owen, Kip Moore, Brett Young and Old Dominion and last year headlined his Trouble Town Tour hitting over 20 cities. For additional information, visit www.jordandavisofficial.com.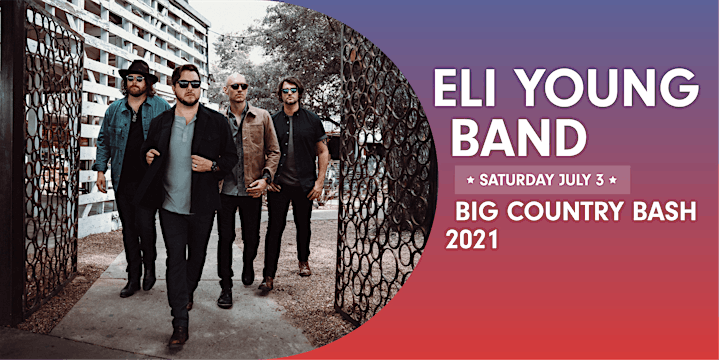 About Eli Young Band
With momentum still high following their fourth career #1, MULTI-PLATINUM hitmakers ELI YOUNG BAND are releasing an introspective new single with "Break It In" via The Valory Music Co. Under producer Dann Huff, the tune explores lessons in life and love that are only learned over time well spent. As showcased through vivid Benjy Davis, Brandon Day, Daniel Ross, and Michael Whitworth-penned lyrics, EYB further delivers a booming chorus: "Like these dusty boots that walked me through / The work that got me here / And these faded jeans with Skoal can rings / I've worn out all these years / When the shine wears off, when you lose that gloss / There's so much more underneath it all / You think that good is good as it can get / Then you break it in."
"We definitely didn't just start a band and have instant success. We've continued to build it up over the years — we broke it in," shares EYB. "We've been blessed to have had our moments of being able to sit back and soak it all in. 'Break It In' carries a message you learn with time, and we're so excited for these lyrics to be heard far and wide!"
"Break It In" closely follows THIS IS ELI YOUNG BAND: GREATEST HITS, which features chart-toppers – "Love Ain't," PLATINUM "Drunk Last Night," 2X PLATINUM "Even If It Breaks Your Heart," and 3X PLATINUM "Crazy Girl." EYB has always been unique in modern Country music as a true band of brothers who cling fast to their Texas roots and has maintained an impressive trajectory with singles earning Billboard's #1 Country Song of the Year and ACM Awards Song of the Year. They have previously earned multiple nominations from GRAMMY, CMA, CMT, ACA and Teen Choice Awards.
While selling out venues as a headliner from coast-to-coast, EYB has toured with Jason Aldean, Dave Matthews Band, Kenny Chesney, Rascal Flatts, Toby Keith, Tim McGraw, and Darius Rucker. They will continue to bring these fan-favorites and more on the road this summer with several festival appearances. More details on tour stops are available at https://eliyoungband.com/, Facebook, Twitter and Instagram.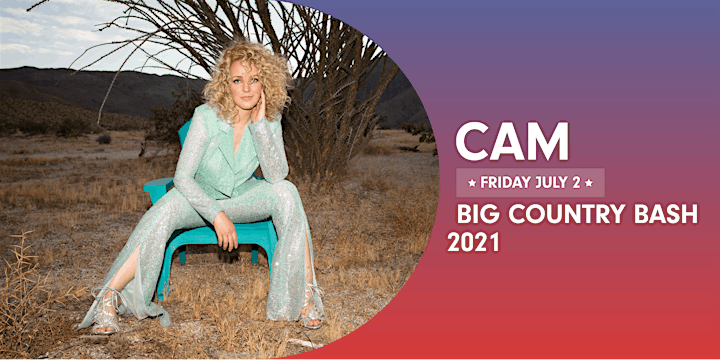 About Cam
Camaron Ochs, or Cam professionally and to her friends, has co-written with Sam Smith for his album (the song also became the soundtrack for an exquisite Apple commercial) and toured with him around North America. She lent her writing voice to Miley Cyrus' Bangerz album and she opened for Harry Styles at the legendary Ryman in Nashville. Some of her proudest moments outside of her music are working in both the GRAMMY and ACM Diversity & Inclusion TaskForces. Cam is excited about her dual role as a singer-songwriter and performer, and also as a mother. Cam's current single at country radio is "Till There's Nothing Left" which has a bangin', cinematic music video available to watch here.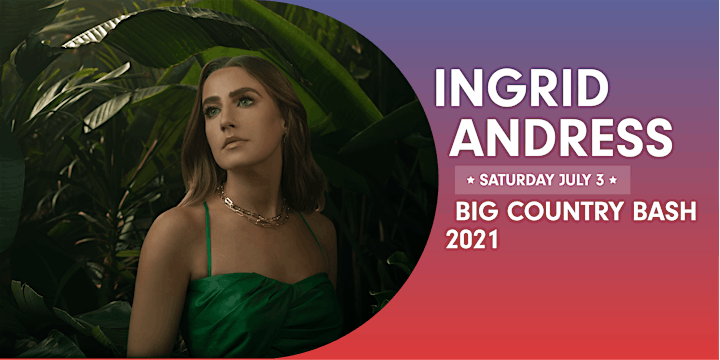 About Ingrid Andress
"A signpost for modern female complexity," (Billboard) Warner Music Nashville / Atlantic Records recording artist Ingrid Andress received three GRAMMY nominations earlier this year and was the only country artist nominated in the general field "Big Four" categories as a Best New Artist nominee, tying Miranda Lambert as this year's most-nominated country artist. A 4X ACM Awards nominee, she co-wrote and co-produced every song on her debut album, Lady Like, which features her Platinum-selling, No. 1 debut single "More Hearts Than Mine," and her current single "Lady Like," which is climbing the country radio charts now. 
In addition, the 2020 CMA, ACM and CMT Music Awards nominee took home Song of the Year honors from both the MusicRow Awards and NSAI's Nashville Songwriter Awards. With over 500 million streams to date, she has received widespread acclaim from outlets such as The New York Times, NPR, HUFFPOST, Entertainment Weekly, ELLE, Teen Vogue, WWD, PAPER and Wonderland to name a few and has made several national TV performances including appearances on ELLEN, The Late Show with Stephen Colbert, The Late Late Show with James Corden, TODAY, Late Night with Seth Meyers, Jimmy Kimmel Live!, The 54th Annual CMA Awards and The 2020 CMT Music Awards. 
The accomplished singer / songwriter has penned songs for artists including Bebe Rexha, Charli XCX, FLETCHER and Dove Cameron. Having started last year touring with Keith Urban on select dates, Andress' 2020 tour dates also included shows with Dan + Shay, Tim McGraw and Thomas Rhett.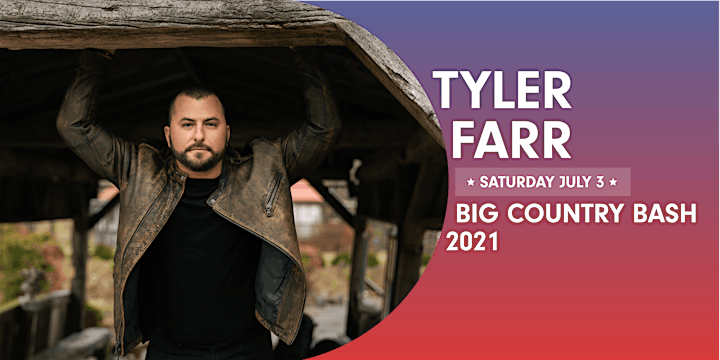 About Tyler Farr
New music coming June 4th

"COVER GIRL"

First artist signed to Jason Aldean's Night Train Records / BBR Music Group

Three No. 1 songs to his credit ("Redneck Crazy," "Whiskey In My Water," and "A Guy Walks Into A Bar")

His debut album, Redneck Crazy, landed at No. 2 on the Billboard Country Albums Chart and #5 on the Billboard Top 200

The only solo male country artist in the past decade to have their first two studio albums debut in the Top 5 on the Billboard Top 200 chart

Venue Information:
Avenue of the Saints Amphitheater
3357 St Charles Rd.

Saint Charles, Iowa, 50240